Running a Barbershop cum Gallery on LA's "Avenue of Art" (Spring Street) is a constant challenge.  How do you stand out from the always ambitious artistic offerings along the street without alienating the sophisticated art goer who attends what has become LA's most high brow monthly event for art aficionado's.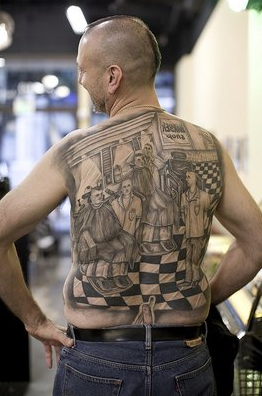 Mohawk's approach to curating art exhibits at Bolt Barbers monthly artistic extravaganza is rooted in his experiences, especially learnt as shift swingman at Kentucky Fried Chicken in Mount Kisco, NY where he was responsible to fill in as B-B-Q and Xtra-Crispy Chicken Cook when the regular part timers were too smoked out to carry the shift.
There, Mohawk discovered the best ideas are often the ones rooted in irrationality.  Although many come to the monthly haute couture art-walk event in DTLA to invest in potentially valuable works of art, others come mainly to celebrity sightsee and perhaps sample some of the latest monoxide smoked mobile culinary delights that our fine city has become world renowned for.
With this lack of reasoning in mind, Mohawk gets inspired by all that our fair Art Walk Haute has to offer. But perhaps favorited by him are the exceedingly rare archival "Free Hugs" prints that on lucky occasions can be purchased by art dealers disguised as homeless people on some of the historic district's busier intersections.
The confusion mindset and lack of clarity and reasoning in Mohawk Matt's mind extends to other aspects of his perceptions about this monthly event which he celebrates with bravado and gusto each and every second Thursday monthly. Importantly, Mohawk uses the time between each art walk, particularly the remaining three Thursdays of each month to rest and recuperate as not much catches his fancy in terms of other offerings in the art world community.
Of late, rumors circulated by Art-Walk Executive Director, and the next President of the USA, Joe Moller, who himself  invented and coined the word "Art" and most recently is responsible for turning art-walk from a shamble into the highly respected event that it has become, appear based on truth. Mohawk is curating a Hair Art exhibit, thus recreating some of the most sophisticated works of art such as the Mona Lisa, etched onto the hairy heads of high level Century City Attorneys.  The haircut art appears to be piquing interest as art acquisition is on everyones recessionary mindset but many are sometimes apprehensive about the marketplace.  This especially in light of the recent passage of The Fiscal Cliff Austerity Measures Act, which will use profits from the sale of art-work at DTLA's Monthly Art-Walk events to solve the nations deficit.