Sitting and spinning alongside the entrance of every quaint, eclectic barber shop of times past and present is a revolving pole rich in meaning. Its motioning, uneven waves of red, white, and blue signify a tried and true brotherhood that permeates the soul of any bloke willing to experience it. Inside this cauldron of testosterone is the galvanizing familiarity of musky products, humming trimmers, and the collaborative conversations between barber and patron. Emulating this modern sanctuary is the unique, and not to be outdone, Bolt Barbers.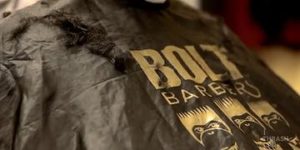 Although fairly new to the scene, Bolt Barbers' hybrid business model emanates the old-fashioned past with the new-school cool of men's hair trimming, styling, and shaving. What started in 2009 in Southern California will soon open inside downtown Vegas' Container Park.
"To understand a man, you must know his memories." –Sir Anthony Quayle
Founder Matt Berman self-identifies himself as "Mohawk Matt" and has done so since procuring his first professional haircut nearly four years ago. At 15, Matt always dreamed of opening his own barbershop. Just as well, he had envisioned the reinvention of the entire experience of men's hairstyling by adding bowling, shuffleboard, and root beer within his workspace. But Matt's family expected more of him. Barbering was frowned upon and considered blue-collar work that held little value, and Matt was destined for success and greatness. As the years faded and the innocence of youth fleeted, Matt set his dream aside and, like all teens must do, he grew up.
Following life's path, Matt studied liberal arts, journalism, and advanced business management in New York and Pennsylvania. Upon graduation, Matt accepted a job and travelled far and wide as an intern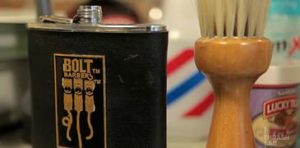 ational marketer for consumer products juggernaut Procter & Gamble. He quickly climbed the ranks of several prominent businesses marketing varied products from fragrances and eye contacts to eventually becoming the vice president and managing director of Danone baby products. Tiring of the corporate scene, Matt moved from Europe to Los Angeles and invested in an organic baby formula business, choosing, instead, a more entrepreneurial lifestyle. However, with a sluggish economy and a weakened interest in the company, Matt struggled to keep his failing investment afloat. And with that, Matt's personal life took a hit and a midlife crisis ensued.
"The reality is, the higher I rose and the longer I stayed, the less happy I became. It really took the trigger of the separation and filing for divorce with my ex that I really decided to reassess what my life was really about and what were the drivers going forward that were going to provide happiness. It wasn't just, in my case, the marriage that was unsuccessful — it was my whole life that was kind of unhappy, and I really felt I was very much just on the wrong career track."
With his back against the wall and needing something to do with his time, Matt reevaluated owning a barbershop and decided it was either now or never to chase down his elusive dream.
"Failure is simply the opportunity to begin again, this time more intelligently." –Henry Ford
In 2008, Matt attended the Real Barbers College in Anaheim, Calif. Juxtaposed in a highly urbanized and widely diversified area surrounded by senior homes, a youth military academy, a private pre-K learning center, and ethnically enriched Anaheim High School, the Real Barbers College had an expansive range of Latino, African-American, and Caucasian clientele and was the central reason for Matt's enrollment. With different races come different hair types: fine, coarse, straight, curly, thick, and thin. And with different types of hair comes different hairstyles: military, crew, fade, high top, Mohawk, and brush cut. As Matt continued to get the training he needed and his broadening knowledge of hair trimming and fading continued, he envisioned his own barbershop to be similarly represented.
"I really liked the diversity that was being offered and the function of [Real Barbers College's] location, and I always felt Bolt would be based on strong diversity: a real cultural and ethnic melting pot of dudes coming in to get their hair cut."
Matt received his barber's license in July 2009 and opened Bolt Barbers four months later in November. From its inception, this wasn't going to be any run-of-the-mill haircutter, and it started with a name. According to Matt, many barbershops are either named after the owner or types of haircuts, but he believes they are overly simplistic for branding. Bolt is memorable and captures the essence of the attraction and amenities offered, said Matt.
As his shop gained traction and appeal, Matt opened two more locations and dubbed it as a "third place" for boys and men: a place where guys can go to chill out, relax, and get away from the constraining everyday hassles and stresses of work and school. Getting a quality haircut, according to Matt, was no longer going to be an errand, but, instead, an experience. In addition to shearing heads, Bolt offers its L.A. clientele facial shaves as well as belt, equipment, and shoe shines.
Aiming to be trail blaze yet traditionalize barbering, in August 2012 Matt and his crew launched the world's first vintage mobile barbershop aboard an all-aluminum 1954 Spartan travel trailer. As a special promotion to students, on Thursdays, the trailer travels to the University of Southern California (USC) campus for "Trojan Thursday" and cruises SoCal to attend corporate and community events.
With the catching of fire of an organic, word-of-mouth marketing campaign and loyal customer base, Matt and Bolt Barbers seized the opportunity to open its fourth location centralized in the budding scene of downtown Las Vegas.
"At Bolt, everyone is on the same level. It really doesn't matter who you are or what you do."
"The best way to predict the future is to create it." –Peter Drucker
In October, Bolt Barbers will set up shop at the southern end of the Container Park, anchoring as a picturesque backdrop to Carson Avenue and Seventh Street in the form of a restored box car and caboose. The two structures will sit adjacent to each other and will portray different eras of barbering nostalgia.
The caboose, according to Matt, will replicate an old-fashioned, turn of the 19th century look but of a modern feel with solid hickory flooring, copper sinks, antique 1890s brass and wood chairs, and a waiting area featuring refurbished, fold-down art deco seats. The box car will characterize the era of the 1950s with a black and grey interior design, diamond plated flooring and backbar, and upholstered Chevy Bel Air chairs reminiscent of the time period. To appease the 21st century clientele with modern technology, each structure will be fixed with large plasma television screens and a built-in music system.
At its core, Bolt Barbers doesn't align with nationwide hair salons … and it doesn't pretend to. The prices will be slightly higher, but the experience will be richer with handcrafted, authentic hair products, such as beer shampoo and conditioner, cock grease pomade, and shaving soap not found at local retailers. In addition, men will receive cuts from their male counterparts.
"If you're a guy and you want a haircut that accentuates your guyness, a barber is almost always going to be better equipped, particularly with shorter hair, to perform that task than a cosmetologist. A barber is more familiar with clippers, more familiar with creating angularity — which is what defines a man's physique — than a cosmetologist who's not as familiar with skills such as tapering and razoring."
Bolt's successes have catapulted them onto the national stage, and it has been featured on "America Now," "Razor Tales," and Ashton Kutcher's Thrash Lab segment "The New Wave of Barbershops." To say the least, Matt and his followers are ecstatic about the business and its future.
"It's not just us who are excited and looking to be a part of Las Vegas, our customers in L.A. are freakin' thrilled about what's happening in Las Vegas […] and they very much want to be a part of that."